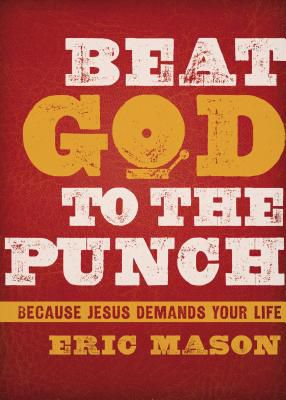 Beat God to the Punch is all about experiencing God's grace now so we don't/won't experience His wrath later – to use Eric Mason's phrase from Philippians 2:9-11 – bow now or bow later. In a word – beat God to His wrath, what he describes as God's punch.
The book is an exposition of John 1:35-51. He gives the them of the passage and the book as an investigation into "how Jesus engages us to walk with Him as His disciples under His Lordship through the gospel of grace" (11). It is a book about the Lordship of Christ and the grace necessary to receive and submit to Him as Lord.
Mason is biblical. The grace he sets forth is not a grace that allows a follower of Christ to live however he pleases. The believer, Mason rightly asserts, is active in sanctification. Growth in Christ into His headship is a process, a process that involves grace. "Sanctification is the only aspect of our relationship with God that God demands our participation. Note an important distinction: our sanctification does not depend on our participation (it depends entirely on God's participation), but God demands that we participate. In our spiritual growth, or our sanctification, we are called to work, and that work flows from what God has done for us in Jesus Christ" (34).
So then, this is a book about the need for God's grace in beginning, sustaining, and fulfilling our walk with Him in Christ. Chapter 1 articulates our need for grace followed in chapter 2 by how we experience that grace in the Christian life. Chapter 3 describes the work of the Holy Spirit in imparting grace. Chapter 4 addresses the way that grace has been rightly set forth in the history of the church, and how it has been abused or cheapened as well. And finally, he concludes with how grace brings us home.
Given the controversy that exists concerning the law and grace (nothing new under the sun), this is a timely book that I highly recommend. Mason asserts the demand to bow to the King, to submit to Christ as Lord. Grace does not allow us to do what we want when we want and receive God's blessing. Freedom, yes, but freedom that demands obedience to the King. I think he would agree, with freedom comes the responsibility to live in accordance to that freedom.
(I received a pre-publication copy of this book from the publisher with a request to review. Book release date is September 15, 2014)