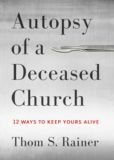 Thom S. Rainer, Autopsy of a Deceased Church: 12 Ways to Keep Yours Alive, B&H Publishing Group, 2014. 112 pages. $12.99
This is a most unfortunate book – but a book that is much needed today. Churches are not just in decline – they are dying… by the thousands. And the death is slow, sometimes very slow.
Rainer points to this as one of ten reasons that can lead to the death of a church. All of the factors are not present in every church that dies. Some have more, some less. But these are factors consistent with the 14 churches he interviewed who are dead, gone, history.
Each of the factors is brief, but not too brief. Rainer does not pursue each church and each factor as deeply as he could but simply points out the existence of a particular problem/issue that led to decay and finally death. He asks hard questions, questions that must be considered in each instance. He offers illustration after illustration, each anecdotal and very practical. There may be times where you think  Rainer was a fly on the wall in your church.  Each chapter is only 4-5 pages, and one of the great benefits of the book is the questions to consider following each "autopsy."  There is also a prayer that individuals and church leaders will want offer up as they examine their own hearts and congregations.
All of the factors (10) that led to the death of these churches, and others like them, can be attributed to a self-centeredness that somewhere along the way jettisoned an others-oriented approach to ministry. This self-centeredness is born out in two ways: (1) Churches that become absorbed with their own local church at the expense of real ministry (kingdom work) towards others in the community, and (2) individuals that become consumed with their own selves and not their ministry towards others. In other words, both churches and individuals somewhere lost their vision and purpose for others.
No church is immune. I found myself particularly drawn to the chapter on preferences. There certainly is a real danger in the church today when one emphasizes their own personal preference without little or no concern for others. This is but one of the many things that lead to decline – and perhaps death. Others might find themselves sympathizing with a ministry that is more about buildings than people, where programs suffocate purpose, etc.
Regardless of your perception of the health of your church, I highly recommend that church leaders read and ponder Rainer's findings. I would suggest working through each chapter together while prayerfully considering his questions. And, if you find your church is sick, very sick, or dying, then consider his responses for hope – or his 12 ways to keep your church alive.
Visit ThomRainer.com/autopsy/ for more information.
Soli deo gloria!
(I received a pre-publication copy of this book from the publisher with a request to review.)